Previous page
Following the beaten path playing shows from Sandestin to St. George Island the couple decided to explore and stretch as performers. Fletch sold his part of the Grill and they loaded up the van to see the world (well, the part contained in the U.S.; the van wouldn't float.) The duo began to perform everywhere from coffeehouses to country clubs and college campuses. Embraced by the college market for their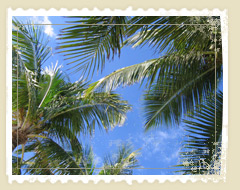 fresh and original style they were named the Association for the Promotion of Campus Activities "Best Band" in 1998, 2002 and 2003 and were voted Best of 2002/2003 in the music and arts category by Campus Activities Magazine.
While touring, a favorite stop has always been Birmingham, Alabama; where Fletch grew up. One night after a show at Otey's in the Magic City the two ran into Anthony Crawford, a high school buddy of Fletch's.
After catching up and telling old stories they all thought it would be a blast to collaborate on an original project which led Fletch and Aimee on the most exciting adventure yet. They came to Nashville and recorded their debut CD on Uncle Am Records under the name Sterling Fletcher. While promoting their CD, "Full Circle", which charted in the top 100 on the Americana Radio Chart; Fletch and Aimee were delighted to have the opportunity to share the stage with such notable Americana music heroes as Buddy & Julie Miller, Gillian Welch and Steve Earle.
Fletch and Aimee's cover duo, Gilligan Loves MaryAnn continues to perform for private parties, corporate events, country clubs and the occasional beach club.
You can catch their original music group, Sterling Fletcher, playing venues around Nashville.
Fletch and Aimee will return to the studio later this year to begin work on a new project which will feature a number of stellar musicians.
Please visit www.sterlingfletcher.com for more about Fletch and Aimee's original music.